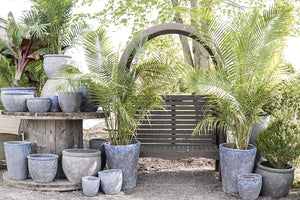 There's so much to explore in store.
explore our
Outdoor Living
From patio furniture, fire pits, and fountains to outdoor pottery, planters, and garden accents, Bast Brother's is your local resource for designing a beautiful home and garden outdoor experience.
Gardening accessories
Trellises, Plant Stakes & More
Can be found in store for your garden! Need to support those tomatoes? Shop our tomato cages, raised garden beds, tools and more this gardening season.
Essentials for your garden:
Soils & Fertilizers
At Bast Brothers, we are invested in using the finest locally sourced organic soils & fertilizers to promote the health and growth of our live goods. We are proud to carry Espoma Organic Fertilizers & Soils in store!
What we carry
Outdoor Pottery
We carry beautiful outdoor pottery that will compliment any space. Browse our selection of fiber clay, ceramic, terra cotta and cement pottery in store from 8" round up to 20" round!
Shop Aquapots by Proven Winners!
Explore our pottery
Fountains & Firepits
Experience peace & tranquility with a beautiful fountain in your garden.
There's nothing like a fireside chat with family and friends. Shop our fire pits for your backyard space.
Shop Fountains & Firepits
in store & online
Gardening Tools
No matter the size of your garden, there are some tools you just can't live without. Need to stake it, snip it, tie, or rake it? Want to dig a hole, water a lawn, hang a basket, or train a vine? Bast Brothers carries Barebones Living, Burgeon & Ball and Lewis Tools.