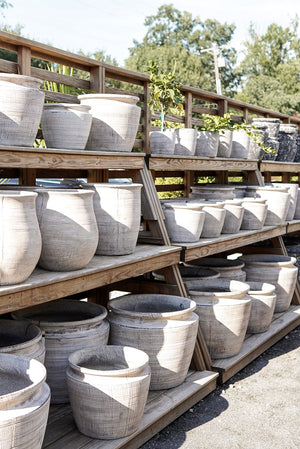 Outdoor Pottery
& Containers
Explore our selection in store!
explore our
Outdoor Pottery
We carry beautiful outdoor pottery that will compliment any space. Browse our selection of fiber clay, ceramic, terra cotta and cement pottery in store from 8" round up to 20" round!
shop in store
Outdoor Pottery
Select pieces within our assortment are designed to be freeze and frost resistant. Check out our pottery throughout the garden center & ask an associate for help!
Product Spotlight: Aquapots
What are Aquapots?
AquaPots are the first and only premium quality glazed ceramic self-watering planters on the market. They are not an insert but rather a complete system that is integrated into each planter. 
Why Aquapots?
Self-watering means watering frequency is significantly decreased. The risk of overwatering is also eliminated along with the potential for water ring stains on the deck or porch!
Aquapots in stock?
Check our garden center for availability on Aquapots by Proven Winners! We bring in new pottery every Spring, so make sure to stop in soon for the best selection.