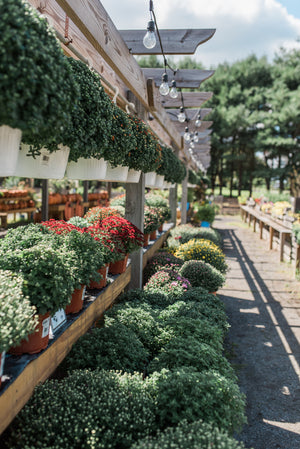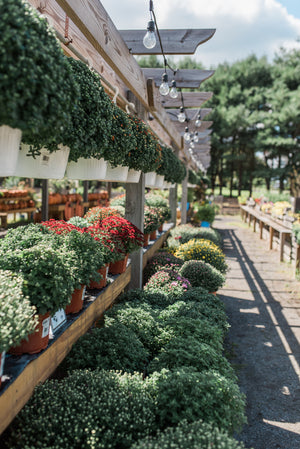 Shop single color & tri-color mums from 6" to 14".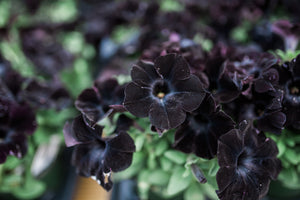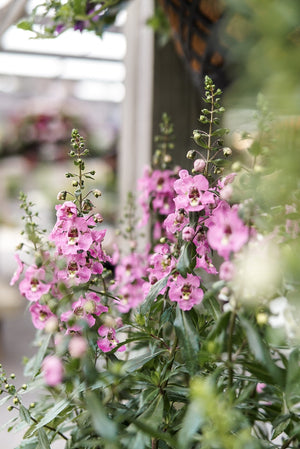 Bring your garden to life
All About Annuals
Planted after the last chance of spring frost, annuals are celebrated for their ability to bloom non-stop throughout the growing season, thus providing the gardener with immediate satisfaction and continuous color until autumn.
Gardening with annuals:
Available beginning late March, these are plants that typically live one year or less. With powerful bloom power, we love annuals for hanging baskets, container gardening and border gardens. Shop the highest quality annuals in store, from 804 packs to 14" pots this Spring season.
now in bloom
Fall foliage & flowers
Have arrived! Create a swoon-worthy front porch with fountain grasses, ornamental peppers, aster & more.
autumn season savings
Save on Mums:
#4.5 Mum - $4.90/ea or $3.90/ea for 8+

#6 Mum - $6.00/ea or $5.25/ea for 6+

#9 Mum - $9.90/ea or $8.90/ea for 3+

#12 Mum - $29.90/ea or $27.90/ea for 2+

#14 Mum - $39.90/ea or $37.90/ea for 2+
autumn season savings
Save on Tri-Color Mums:
10" HB - $24.90/each or $22.90/ea for 2+

9" Mum - $11.50/each or $10.50/ea for 3+

12" Mum - $34.90/each or $32.90/ea for 2+

14" Mum - $44.90/each or $42.90/ea for 2+
Fall Essentials Are Here:
Ornamental Peppers
These trailing beauties look perfect in a planter with mums, celosia & grasses!
4.5" Pot - $5.00/ea or $4.25/ea on 8+
6" Pot - $7.90/ea or $6.90/ea on 6+
8" Pot - $11.90/ea or $9.90/ea on 3+
Celosia
Available in magenta, hot pink & orange, celosia adds both height & color to your fall landscape.
4.5" Pot - $5.75/ea or $4.75/ea on 8+
9" Pot - $18.90/ea or $16.90/ea on 3+
Ornamental Grasses
Fill a planter with these stunning red grasses alone or add as the centerpiece in combination with mums, peppers, cone flower & celosia.
9" Pot - $16.90/each
Cabbage & Kale
Incredibly resilent when it comes to temperature, we love to add cabbage & kale to our planters and landscapes for long-lasting color.
Available in 4.5", 6" and 9" pots.
Rudbeckia
Add a splash of color with striking rudbeckia. Plant in combination with white mums, orange ornamental peppers and millet for a class autumn look.
9" pot - $18.90/each
Millet
Add height to your fall vingnette with millet. The tall brown stalks look great atop a straw bale and flanked with decorative pumpkins & mums.
9" pot - $11.90/ea or $9.90/ea on 3+
Pumpkins
From classic carving pumpkins to colorful novelty pumpkins, we have what you need for fall decor!
Buy 3+ and save $1 each.
Corn Stalks & Straw Bales
Complete your fall porch look with straw bales & corn stalks.
Corn Stalks - $7.00/bundle or $6.00/ea when you buy 2+
Buy 2+ on straw bales & save!
planting tips
For container gardens:
Sun or shade? Group together annuals with the same sun tolerance. Next, gather 3 or more annuals that fit into the below categories:
- Thriller: the eye-catching plant that provides height and drama
- Filler: your favorite bushy, mounded, flowering or foliage plants.
- Spiller: a trailing plant that softens the container's edge