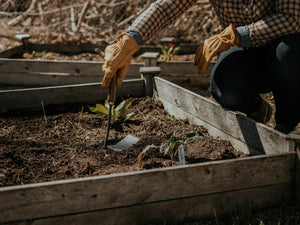 Gardening Tools
& Accessories
Tools to complete the job.
Gardening Tools & Accessories
No matter the size of your garden, there are some tools you just can't live without. We carry a curated assortment of the best gardening tools around!
explore our
Gardening Tools
The more often you garden the quicker you learn that having a variety of multi-purpose tools helps you accomplish tasks efficiently and with greater ease. Shop our favorite tools by Barebones, Burgeon & Ball and more!
product spotlight
Barebones Living Tools
These tools are made with heat-tempered stainless steel. They are rust-resistant and can be resharpened. The walnut wooden handles offer heavy duty strength, a timeless aesthetic, and ergonomic support to ensure a lifetime of use.
Shop Barebones Tools
Soil Test Kits
A successful garden starts with healthy, balanced soil. A variety of Rapitest® traditional and digital soil kits are available to make testing soil for pH, Nitrogen, Phosphorus, and Potash easy.
Gloves, Aprons & Totes
A large selection of quality garden gloves for men, women, and children, are available at Bast Brothers. Explore our other gardening accessories:
Shop Garden Accessories
Outdoor Furniture
Enjoy your backyard hangs by gathering at one of our teak outdoor dining tables or lounging in our teak adironak chairs.
kids gardening
Get Your Littles Outdoors!
With our selection of kid's gardening tools, gloves, activity sets & more. Shop in store & online!
Shop Kids