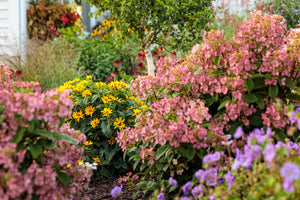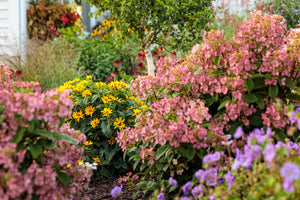 Now available at Bast Brothers Garden Center
Simplify gardening with EZ Scapes™
Follow these fool-proof combinations of three to four perennials that grow well together to create easy, elegant landscapes.
Characteristics EZ SCAPES
Multiple Seasons of Interest
Too many landscapes are front loaded or have their plants packed into a short flowering window, creating long stretches of garden blah. Whether it is Spring, Summer, or Fall, EZ Scapes™ have a plant that is going to be popping in the landscape. This could be from a spectacular flowering performance or the graceful elegance of an Ornamental Grass.
Characteristics EZ SCAPES
Similar Growing Conditions
EZ Scapes™ recipes grow well together because they have similar garden requirements. Plants paired in an EZ Scape™ will all thrive in similar light, soil, fertility, and watering conditions.
EZ Scapes Offered by Bast Brothers:
Pollinator Sunscape
Featuring:
Paint the Town Dianthus •
Profusion Perennial Salvia •
'Denim 'n Lace' Russian Sage (Perovskia) •
ROCK 'N GROW® Sedum
Espoma Bio-Tone
Don't Forget to Fertilize!
If you have soil that's consistently hard to grow in – this is for you! With both endo and ecto mycorrhizae, this microbe-enhanced plant food nourishes depleted soil for abundant growth.
Shop Bio-Tone
Limited time
Buy any 4 or more bags of Espoma Soil or Compost, save $1 each!
Discount applies to Espoma Potting Mix, Garden Soil, Raised Bed Mix, Mushroom Compost and Land & Sea Compost.
Get Rewarded
Join our Rewards Program!
Earn 1 point for every $1 spent. Once you reach 100 points, receive a $10 off $50 coupon! Sign up in store, for in-store redemption only.