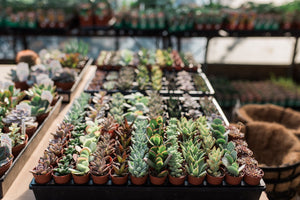 Interested in exciting your guests with succulents as favors?
We're here to help! Available for local pick up only.
What we offer:
Give you guests the gift of succulents for your next big event! A popular wedding, bridal shower or baby shower favor - we offer succulents for purchase by the flat. We require all orders to be finalized 2 weeks prior to your event. To inquire about ordering, please fill out the form below.
Flat of 50 - 2" Succulents
Great for smaller parties, buy our 2" succulents by the flat. Each flat of 50 succulents is $146.25, before tax (normally $195). Sold in full flats only. Terra cotta pots sold separately.
Bulk Succulent Order Inquiry
Please provide the following information: Date of event and the amount of flats (we sell full flats only). *Note we require 2 weeks notice for ALL succulent orders*